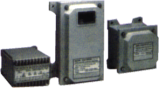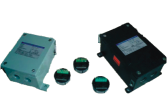 These transmitters are used in conversion of Thermocouple, RTD, in forms of mV and mA. The output of the transmitter is in 4-20mA and is Galvanically isolated from the input. The applications of temperature transmitter output are for the transmission of the signal from the field to the remotely located marshalling control panel for the purpose of conversion, Indication, Control, Data Logging, Data Processing, etc. Because of robust enclosure, high accuracy with high isolation it produce best results in field .
We are manufacturing different type Temperature Transmitters i.e. Field mounted, head mounted and with display.
ADVANTAGES:
End of loop problems.
Protect from line drops and interference signals.
Robust Die Cast Alluminium Housing (IP-55/65) suitable for field mounting
Input and Output Circuits are galvanically isolated to of 2 KV Peak
TECHNICAL SPECIFICATIONS
Power Supply: 12 to 36 VDC ( 24VDC Nominal),
Input : K, J, S, PT 100
Output: 4-20mA
Zero Span Adj.: Zero : + 10%; Span : + 20%
Isolation Voltage: 2KV peak.
Accuracy & Linearity: Better than 0.5%.

SPECIFICATIONS :


Differential Pressure Transmitter STK335 can accurately measures the pressure of gases, vapours, and liquids and is used in all areas of chemical and process engineering.
Measuring range
From -7.5...7.5Kpa to -7000...7000Kpa
Maximum range turndown 100:1
Min. operating pressure: 0.12Kpa
Static pressure: 30bar...130bar

Area of Application
Process control
Chemical industry

Technical Data
Accuracy:0.075 %
Intrinsic safety: ExiaCT4CT6
Supply: 10.545VDC
Output: 420mA with superimposed digital communication signal for HART protocol
Environment: -30+80
Long term stability: 0.1%/year
Static pressure effect: <0.005% of URL/1V
Power supply effect: <0.01% of URL/g when tested 200Hz in any axis relative
Vibration effect: Zero shift which can be calibrated out, no span effect
Ingress ProtectionIP65